We Will Help You Get Back To Business In Reading After A Water Damage Disaster
5/21/2019 (Permalink)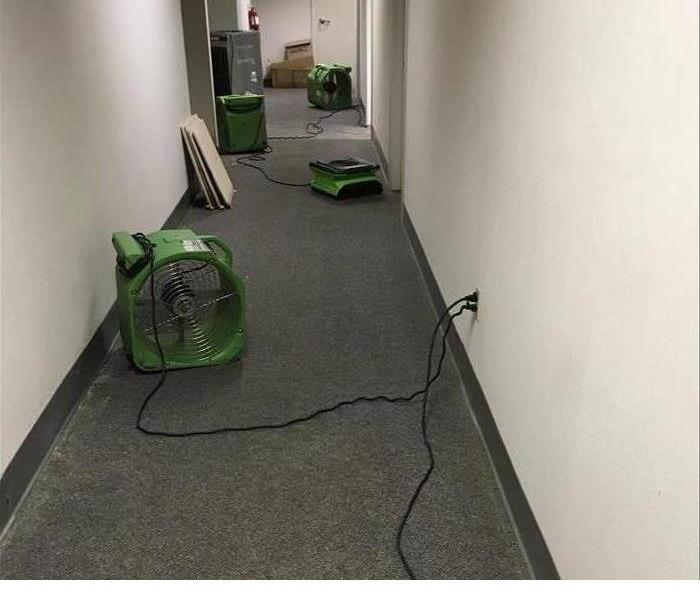 The equipment pictured here was placed in this commercial building to dry the excess moisture quickly so that further damage could be prevented.
Commercial Water Removal for Your Reading Business
A burst pipe or other water-related disaster in your Reading hat shop can be financially devastating for your small business. When you suffer from an incident like this, it ultimately means lost revenue for you, since you might even have to close your shop for a time to make repairs. If the cleanup isn't done promptly, it can lead to even costlier dangers such as structural damage and the growth of mold.

When your business in Reading experiences a water-damage related incident, you have to act fast to mitigate the damage. For best results, call in help from a professional remediation specialist to help you with the water removal and cleanup. SERVPRO has the experience and training you need to get the job done right and looking like nothing ever happened.

One thing you should regularly do is check your gutters and downspouts. Debris and fallen leaves can create clogs and lead to water damage on the exterior and interior walls of your building. Removing this debris and having your gutters professionally cleaned ensures that water is draining correctly and away from your structure.

Knowing where your shut off valve is in case of an emergency is also essential. You can temporarily cut the flow of water to your building if a pipe breaks to stop the flooding until the issue can be repaired.

Even if we must have you close up shop while we remediate the damage, SERVPRO staff works fast and efficiently to get you back up and running as soon as possible. To help us speed up the drying process, various equipment is used, including dehumidifiers. These devices are used to pull water vapor from the air and lower the relative humidity. As the moisture is evaporated, the dehumidifier keeps removing it from the air until your building and contents are dry.

If needed, we can take your merchandise to a safe, dry location to protect it while we work and then return it when the job is complete. We can usually restore any items which were damaged as well while they are offsite.

SERVPRO of Reading wants to help you reopen the doors of your business in Birdsboro, Boyertown, or Exeter after a water damage emergency. Call us at (610) 779-8189 as soon as possible after the incident so we can help you avoid additional issues and get back to serving your customers.
Click here to see library events in your area for the summer.