Why a Mold Infestation in Your Reading Home is Always Much More Than a Surface Covering
1/6/2019 (Permalink)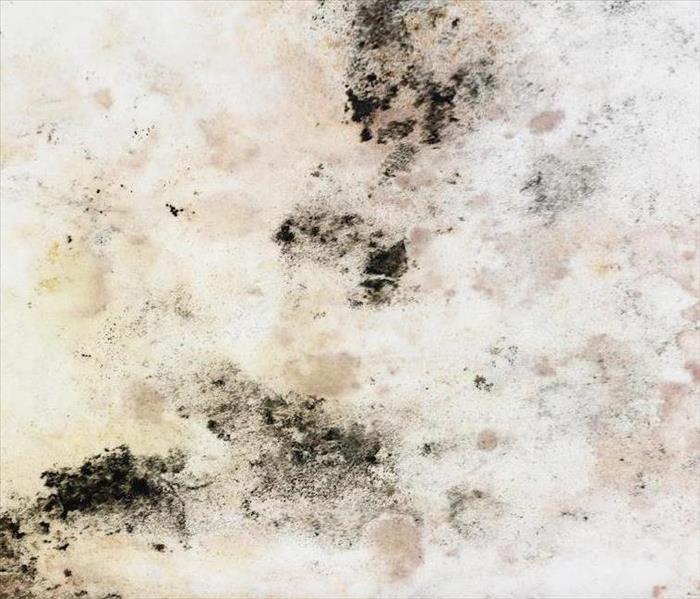 Finding a patch of mold in your home can cause some alarm. Luckily, team SERVPRO is certified in remediating mold damage. Call immediately.
How to Handle Mold Damage in Reading Effectively
Mold infestations in Reading properties can happen for many reasons although in every case there is an underlying moisture issue. Common reasons why such infestations occur include flooding incidents and leakage in plumbing systems. Other causes may not be typical, but they can lead to constant growth. For example, higher than normal relative humidity levels in the house can lead to growth. Such spikes in relative humidity can occur from regular activities such as cooking and showering. Our IICRC certified Applied Mold Remediation Technicians handle mold removal effectively in all cases.

Like many other problems, dealing with mold damage in Reading early, helps ease the process and limit the damages it causes to the structure. Since mold infestations are more common in hidden spaces such as wall cavities and crawl spaces, it is not always possible to notice the problem early enough. Knowing the early signs of microbial growth can help. These include a musty smell and allergic reactions such as constant sneezing for some people. Lots of condensation on surfaces such as glass windows and metal pipes show the house has high moisture levels that can lead to mold formation. Our SERVPRO technicians can help confirm this using equipment such as thermal cameras, moisture meters, and other detection tools.

It is possible to remove mold with a few simple cleanup steps if the growth is only confined to the surface of the affected materials. Our SERVPRO technicians HEPA vacuum the affected area removing any loose fragments. We also damp-wipe the area with professional cleaning agents to remove any remaining debris and kill spores.

Sometimes advanced removal steps might be necessary especially when dealing with severe growth. As the mold searches for organic food materials for growth, its hyphae penetrate deep into affected materials, and if left unchecked they can compromise the structural integrity of such a material. After a thorough assessment, our SERVPRO technicians can opt to remove porous materials in the affected areas. We can also use advanced cleaning methods such as soda blasting which allow us to remove mold debris without damaging the material affected by the infestation.

If you suspect mold infestation, call SERVPRO of Reading to help create a response plan. You can reach us at (610) 779-8189 any time. We're Faster To Any Size Disaster.

Click here for more information about Reading.