Revealed: SERVPRO Technicians Effectively Remediate BOTH Large and Small Mold Infestations
3/13/2019 (Permalink)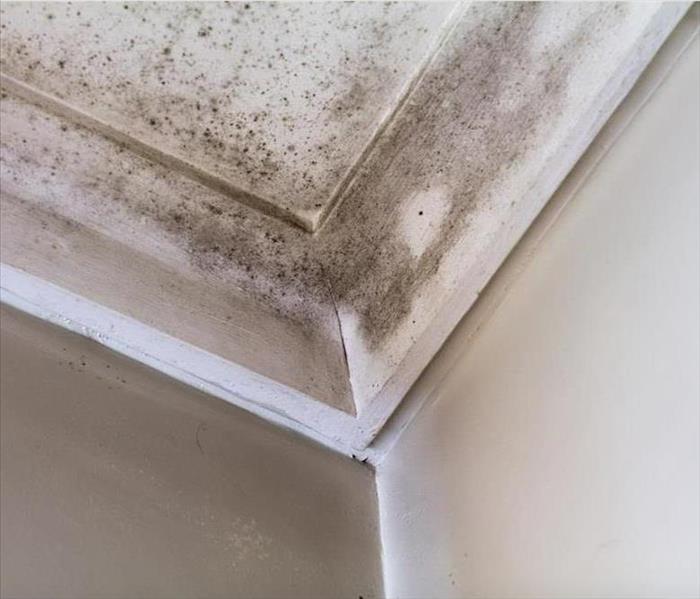 Whether mold affects just the corner or a larger part of your home, contacting team SERVPRO is your best recourse for effective remediation.
Why SERVPRO Relies on Advanced Technologies when Dealing with Mold Damage in Exeter
Mold can develop from simple problems around your property that you ignore. A small leak in the roof may not raise the alarm because there is no flooding, but it can lead to a severe mold problem. One great way to deal with mold issues is to hire a professional remediation service. Mold remediation is part of our restoration services, and we rely on advanced technologies to restore affected properties to their preloss states.
For effective remediation of mold damage in Exeter, there is a need to identify the actual cause of the problem. Every case of mold infestation has an underlying moisture issue but assuming what that cause is without checking can be disastrous. For example, an infestation caused by condensation can be confused with a roof leak. Our SERVPRO technicians use advanced tools such as FLIR thermal cameras to check for cold spots and trace moisture issues in walls and other concealed surfaces. Using such tools makes it easier to identify the source of moisture.
Mold problems develop easily after water loss incidents such as spills or flooding. Even fast response to the water loss may not be a guarantee against mold development. Leaving moisture traces on materials or higher than usual relative humidity can fuel mold growth. Our SERVPRO technicians have a variety of moisture control equipment to help eliminate all moisture from the property. With thermo-hygrometers, it is easy for our technicians to check humidity and temperature levels in different parts of the property and surrounding areas allowing us to dry them properly. We also have different varieties of drying equipment like dehumidifiers and centrifugal air movers that produce higher static air pressure for improved drying.
Mold residues stain surfaces and lead to deterioration of materials. Saving some of the affected materials can help reduce cost or preserve items with sentimental value. Our SERVPRO technicians rely on advanced technologies such as soda blasting and dry ice blasting to remove stubborn mold residues from materials without damaging them.
In case of mold issues in Reading, Kutztown and Birdsboro areas, call SERVPRO of Reading to assist. You can reach us at (610) 779-8189 any time. We're Faster To Any Size Disaster.
Click here for more about Exeter.