What Can I Do to Prevent Water Damage in my Reading Home When I Leave Town?
12/26/2021 (Permalink)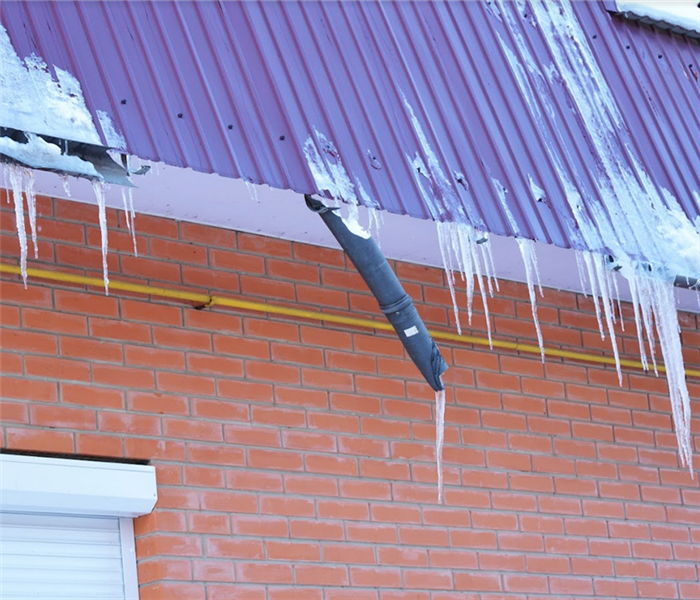 Make sure to take precautions to prevent frozen pipes and ice damming. Should an emergency situation result, contact team SERVPRO 24/7.
SERVPRO Offer Water Removal Services in Reading During the Winter
Many people choose to leave town during the winter season to visit friends and families for the holidays. The only problem with traveling over the holidays is that disasters could happen while you are away. Therefore, it is good to take winterization steps to help prevent issues from occurring.
You can do many things to prevent incidents like frozen pipes and ice damming in your Reading home. It is wise, for example, to remove outside fixtures like hoses and sprinkler systems. Water could freeze inside your hose and then spread into your water lines and cause them to break. If you are going out of town, you should set your heater above 55 degrees Fahrenheit to keep your water lines warm. It is also smart to open up your bathroom and kitchen cabinets so that the drains stay warm.
If you know you have certain pipes that get colder than others, you could use a space heater to heat the cooler rooms. Insulating any lines that run along exterior walls or other cold areas can also prove useful. Other measures like using heated tape on your pipes can also help keep your pipes from freezing.
Ensuring your attic is sealed and insulated is also wise to prevent ice dams. To prevent freezing, you can also attach heated cables in a zig-zag pattern along your roof's edge. If your roof is prone to getting ice dams, you could install a layer of waterproof sheeting that runs past the roof's edge.
But, if you still notice a water leak after you have taken prevention steps, our SERVPRO technicians can help in the following ways:
Flood damage Restoration
Water Extraction
Black Mold Inspections
Repairing Water Damage
Fixing Leaking Roofs from Storms
Basement Flooding Remediation
If your home develops a water leak after you take winterization steps, call SERVPRO of Reading at (610) 779-8189.