Professional Residential Fire Damage Cleanup and Restoration for Kutztown Apartment Owners
12/31/2021 (Permalink)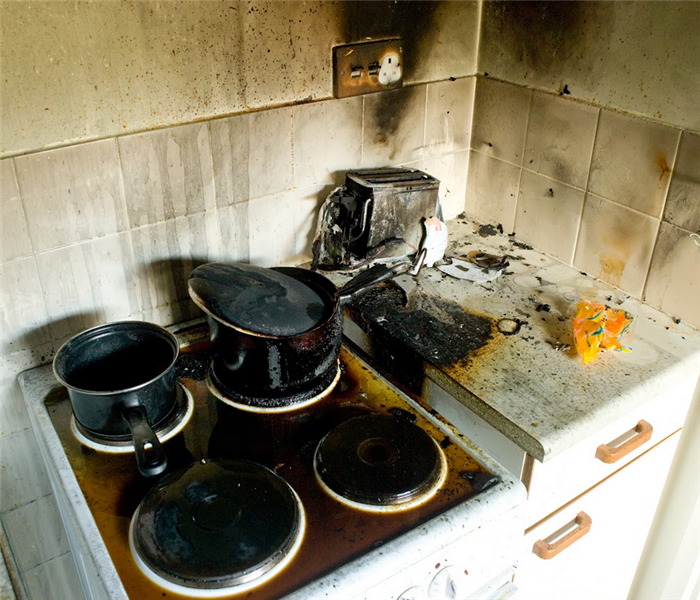 Keep a close eye on your pots while cooking! Should a fire occur, contact SERVPRO right after it is put out. Our technicians are standing by 24/7.
Smoke from a Kitchen Fire Settles on Surfaces Throughout Your Entire Kutztown Apartment
A pot of food cooking on the stove might seem to take forever to boil. Such an extended period can make it seem safe to leave your kitchen for a few minutes to check on laundry in another part of your home. It only takes a few minutes for a small fire to expand into a huge disaster, leaving your kitchen in ruins.
The entirety of your residence in Kutztown experiencing an oily, greasy smoke residue from burned food can create issues ranging from an uncomfortable, dirty environment to unwanted health effects. SERVPRO invests in equipment that uses the latest technological advances to ensure our employees can efficiently mitigate and restore your property.
Our skilled technicians engage in extensive study to earn certification from the Institute of Inspection, Cleaning, and Restoration Certification (IICRC). The Fire and Smoke Restoration (FSRT) certificate and others in specialized areas are crucial to protecting houses and businesses. Our technicians' dedication to our customers continues through training and the conclusion of mitigation and restoration.
Fire Damage Restoration Services
Restoring your residence includes taking care of the floors. Smoke can carry particles from burning items, resulting in specks of melted plastic on tile or linoleum floors. We can remove these and leave the floor in excellent shape. After a fire, carpeting can contain dense soot. Our methods remove this and leave the area smelling fresh again.
Windows often end up with heavy soiling because of the temperature differences inside and outside the house. When your windows and the corners of a room have little space between them, the area can become excessively soiled. We clean the surface and apply primer before repainting. After cleaning, we use special oil polish to replenish wood trim. Glass panes often shatter from the trauma a fire causes, but when panes survive, we clean them to remove soot and other evidence of the fire.
Personal belongings, including those in your kitchen, can suffer severe harm from a fire. Many things might need you to replace them. However, we can clean many items in our ultrasonic water bath equipment. The process works rapidly and removes odors that may have ruined specific items.
SERVPRO of Reading's IICRC-certified specialists provide residents with highly qualified smoke and fire damage restoration services. To ensure your situation receives proper mitigation services, call us at (610) 779-8189. We are here day and night, year-round, to take your call and provide you with the answers you need.