The Five Steps of Mold Remediation
3/28/2018 (Permalink)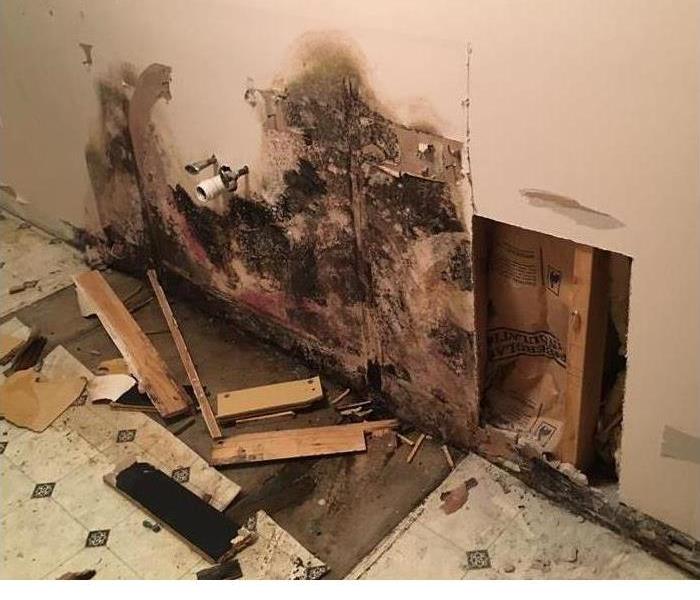 If your home is suffering from a serious black mold problem, you may have already contacted a mold remediation specialist in Reading, PA, to handle the cleanup. In the meantime, you might have a lot of questions about the mold in your house and what to expect when the mold remediation professionals show up at your door. Here are the five main steps of a professional mold cleanup:

1. Evaluation. The first thing a professional will do is evaluate your home to determine how extensive the problem is and determine the best way to handle it. They'll also evaluate the situation after remediation is complete to make sure the mold is completely gone and the source of the problem has been dealt with.
2. Containment. The moldy area may be blocked off with plastic sheeting to prevent the spread of mold spores to other parts of your home. It's also common for plastic sheeting to be laid down from the outside of your home all the way to the moldy area so that mold is not tracked through your house during remediation.
3. Personal Protection. Don't be surprised if the crew is wearing face masks or full hazmat suit. It doesn't mean your black mold is toxic, it's just standard safety measures.
4. Removal / Cleanup. If the surface where mold is growing is porous, like carpet, drywall or wood, it will usually need to be physically removed. The mold grows into the tiny pores in these materials, making it virtually impossible to clean. If the material isn't porous, it may be sprayed with a biocide, which kills the mold and cleans off any staining. It can then be sealed to make the material more resistant to mold and moisture.
5. Elimination of Moisture Source. A professional will also locate the source of your moisture problem and make sure it's repaired. If the source of moisture isn't dealt with, your mold problem will return.

Mold remediation is a straight-forward process, but it does require specialized equipment and knowledge. The professionals in Reading, PA, will have the experience to know how to handle your black mold.
For more information, please visit us at http://www.SERVPROreading.com.