Vital Large Loss Mold Remediation Equipment for Kutztown Businesses
10/22/2021 (Permalink)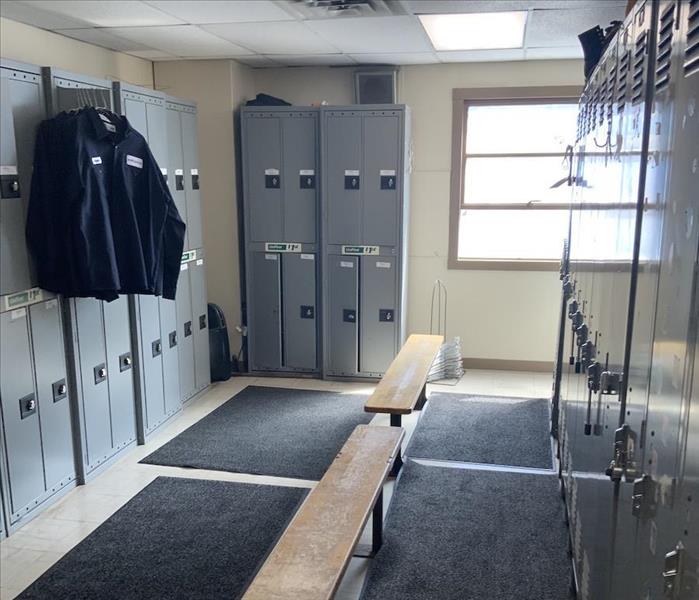 Mold remediation services for your commercial property should be handled by SERVPRO. Our technicians are fast and experienced in all phases of service
With Skilled Professionals Ready to Help, Our SERVPRO Team can Help Mold-Damaged Kutztown Businesses.

Our professionals must work as fast as possible to begin mold remediation in your damaged business. We have several strategies ranging from surface treatments to aggressive cleaning and controlled demolition. In addition, we also provide several mitigative actions when we first arrive to prevent more significant harm to your building, like:
Water removal
Content relocation
Bulk material removal
Odor neutralization
Mold Inhibiting Products
While it is vital to get mold removal in Kutztown businesses started as soon as possible, part of this process also deals with keeping the situation from getting worse. As mold remediation specialists, we work to contain the damaged area in the sense of physical barriers and the application of potent mold inhibitors, sporicidal products, and antimicrobial sprays.
Trailered Desiccant Dehumidifiers
Dehumidification equipment makes a space capable of supporting mold growth with moist conditions less habitable. With large commercial structures with several levels and vast open areas, trailered desiccants are ideal for moisture management and remediation. This equipment gets stationed outside, and quick-connect hoses pipe the intake/exhaust.
Trailered Generators for Recovery Equipment
Generators also play a key part in the remediation and recovery of damaged commercial properties. With most of the equipment in our mold removal and water restoration inventory running on electricity, trailered generators provide substantial portable power to energize dozens of spider boxes placed in work areas and run the equipment we need.
With the threat that mold can present to your business, leave your property in the trusted hands of skilled remediators to help. Our SERVPRO of Reading team can rapidly assess the water removal, drying, and mold removal needs of the structure to make microbial threats "Like it never even happened." Give us a call today at (610) 779-8189.