Call Our Experts In Reading After A Flood
1/21/2020 (Permalink)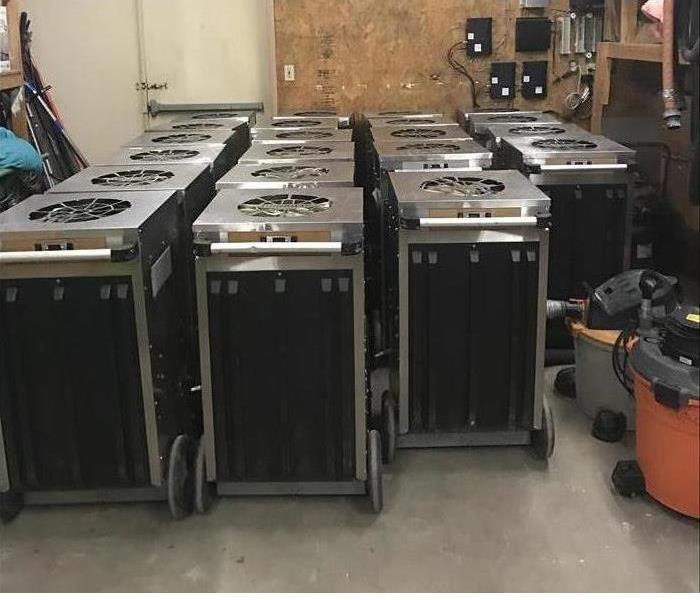 We have the proper equipment necessary like these dehumidifiers and air movers to restore your home right away to prevent further damage.
Flood Damage In Reading May Require The Use Of Disinfectants Like Vanquish
During this time of year, it is common that storms will strike the Reading region. Once moisture created from the storm builds up outside, flood damage could occur as a result. Any time our SERVPRO technicians deal with moisture coming into a house from the outside, there is a chance the water could be contaminated. If the water is just rainwater, then it has a possibility of contamination.
When dealing with flood damage in Reading, the source of the problems gets classified as either category two or category three situations. Category two issues deal with what is referred to in the industry as "grey" water because there is a chance that it has harmful bacteria and parasites in it. Category two situations also include problems created by leaky sinks or shower drains. Category three situations involve either muddy water entering your house after a storm or a sewage drain leaking.
Our SERVPRO team knows that when handling category two or three situations, that contaminated water can be harmful. To disinfect your home after water enters as a result of flood damage, we can utilize a variety of chemical products. For example, Vanquish can be used as a detergent and disinfectant.
Vanquish #175 is an EPA-registered synthetic solution that can work as a bactericide, fungicide, and virucide. The chemical can be used to fight against a broad spectrum of harmful microorganisms. Vanquish works in hard water and is effective in fighting HIV-1 or the AIDS virus.
Vanquish is a rather strong alkaline solution since it has a pH of 12.4. Its special properties also include the fact that it is very effective against pathogenic bacteria and viruses. When using or mixing this product, our technicians always wear chemical resistant gloves and splash goggles so that we prevent any skin or eye irritation.
When using Vanquish, our SERVPRO technicians mix two ounces of the substance to one gallon of water. We then apply the solution with a pump sprayer or by wiping it using a bucket and towel. Next, we allow at least ten minutes of contact time so that the solution can properly disinfect all hazardous parasites, bacteria, and fungi.
If muddy, contaminated water ever enters your residence after a storm, call SERVPRO of Reading at (610) 779-8189 24 hours a day. Once we are done with your restoration project, it will seem "Like it never even happened."
See more about Reading.