Don't Take On The Remediation Challenge For Your Home Alone-Call SERVPRO Today
10/13/2019 (Permalink)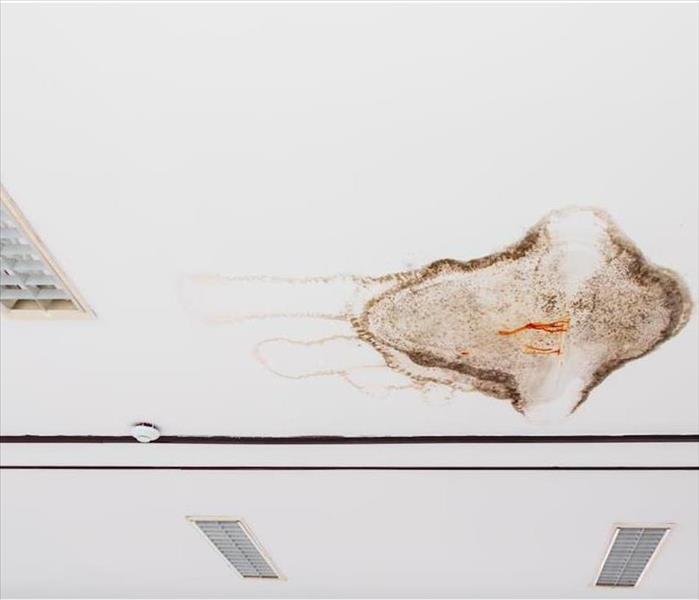 Many times your home is affected by a combination of issues during an emergency. Often water and mold damage go hand in hand.
Why Reading Property Owners Should Choose Professional Restoration Services for Home Disaster Cleanup
In Reading, property disasters arrive in many forms ranging from water damage, fire damage, and of course, mold. All of these problems facing homeowners should be handled by a professional restoration services company to limit the loss and get the best outcome for a bad situation.
Water Damage Mitigation Should Begin Immediately
Water damage in a Reading home requires addressing as fast as possible. This rapid response helps homeowners to avoid loss and other costly issues whether it is from a broken pipe, washing machine on the fritz or an overflowing toilet. For example, water wicks quickly into sheetrock which in turn warps and buckles and when this happens, SERVPRO technicians know that there is no restoration potential and it requires removal through controlled demolition techniques to cut it away cleanly for the dual purpose of better airflow and fast repairs.
Thorough water extraction is a must after a water loss event in a home. Consumer-grade wet-dry vacuums do not have the lifting power of professional pumps. Additionally, specific attachments for forcing water out of the carpet and upholstered furnishings assists in the complete drying. If the water removal process begins within 24-hours, and the water type is clean or gray, the carpet in the home may not be a loss. In cases where the water cleanup did not start until more than 48-hours after the water loss or contains sewage, it requires handling as a category three biohazard with extra safety precautions.
Safety During Fire Damage Cleanup
When SERVPRO technicians handle fire damage cleanup in Reading properties, safety for all is the number one priority. Soot and smoke residues are unhealthy, and homeowners should ask the fire department if it is safe to remain within the premises or not. If the fire loss happened in a single area of the home, the technicians set up containment to halt the prospect of cross-contamination of the spread of soot.
The odor is a significant problem as long as charred materials and soot remain in the home. The technicians remove items that have no restoration potential and document it with both a detailed description and photographs to make filing the insurance claim more expedient for the homeowner. If any residual odors remain, technicians have multiple methods and equipment for the neutralization of fire odors.
There are specialized formulas for all types of surfaces affected by smoke damage, and the technicians perform tests before cleaning to ensure they use the proper cleaning method for the kind of surface without the danger of color bleeding, shrinkage, or surface damage.
Storm Damage is a Year-Round Threat
In Reading, intense weather brings storm damage to properties through winds, flood damage, or ice and snow. When the water or snowmelt enters the home, the loss begins and grows from that point until mitigation starts. In instances where a roof or windows received damage, SERVPRO technicians proactively tarp or temporarily repair leaking roofs or broken windows, so no further water loss occurs.
When groundwater enters a home, it is a serious situation due to the probability of the water containing bacteria, sharp objects in debris or sewage. Technicians test the water, so they know what hazards they are dealing with and proceed to extract the water and lessen the water damage in the home.
Organized pack-outs are common during the flood water removal as exposure to prolonged periods of humidity damages paper items and causes wood frames of furnishings to swell along with the danger of mold. Moving undamaged contents to a safe location ensures no threat of further loss. After the completion of mitigation efforts, the technicians move the items back into the property and put them back in their previous places.
Complete drying and hand cleaning with professional antibacterial and antimicrobial solutions eliminate much of the odor after flood water removal. Technicians use professional drying equipment in tandem with dehumidifying equipment to rapidly lower indoor humidity levels and lessen the chances of mold growth. If any residual water odors remain on-site after meeting preset drying goals, the technicians have a diverse array of odor control applications to use.
Mold Damage Remediation Done For You
Mold damage appears in Reading properties whenever elevated humidity exists and if ambient temperatures are 70F-degrees or warmer, mold spores have the potential to germinate and spread quickly, creating costly destruction to the property and contents.
Safety during mold remediation is a priority for SERVPRO technicians. They contain the areas in the home affected by mold colonies to halt any further spread of spores. The mold abatement techniques used depend on the location and quantity of colonies requiring removal.
Follow up inspections determine if spores spread within the home via the HVAC and the technicians clean the ductwork if necessary.
Mold is often a symptom of a more significant issue usually pointing to poor ventilation trapping humid air, drainage, or an undetected leak. If technicians find problems that require repair during mitigation, they alert the property owner with the problem and suggest solutions. After completing mold remediation in the property, proactive treatments such as antimicrobial sealers inhibit the return of mold.
Why SERVPRO?
It is vital for the restoration services company in Reading that you trust with the cleaning and recovery of your home and contents has staff who have the training and certifications to return your property to its preloss condition. The technicians undergo extensive educational instruction in the restoration sciences and learn the latest techniques used in tandem with technologically advanced equipment for the best outcome on every job they do.
Availability is another crucial issue in choosing a mitigation company. The longer the damage in your home sits, the greater the loss to your property and belongings. SERVPRO technicians have a commitment to 24-hour a day service and no matter when the loss happens; they arrive within an hour in most cases to begin cleanup efforts.
SERVPRO of Reading stands ready to support local community members who need assistance with the cleanup and restoration services from fire, storm, water or mold damage. The emergency response team is available by calling (610) 779-8189 to make the loss to the property "Like it never even happened."
Click here to learn more about Reading.