Don't Wait Call SERVPRO Right Away After Flood Waters In Reading
3/8/2019 (Permalink)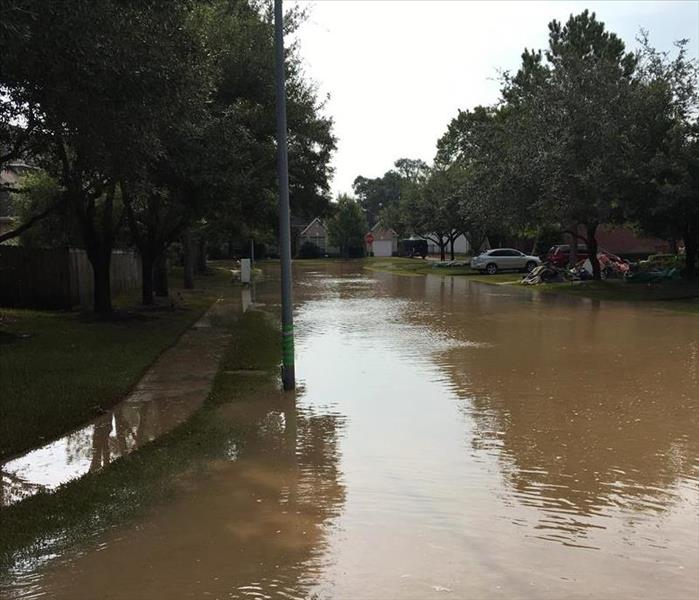 We have the training, equipment and the right systems in place to handle flood damage. We are available to help you with restoration 24/7.
Pack-Out Prepares You for a Successful Flood Damage Restoration in Reading
Weather-related overland flooding or internal flooding from appliance failure or sewer backup in your Reading home defines chaos. You and your family feel high levels of stress as you watch the water rise. In addition to the damage excess water does to the structure of your home, furnishings, household goods, and personal possessions all suffer. One strategy to bring order to the mess flooding causes is a pack-out by our trained technicians.
Water removal and structural drying in Reading after a flood damage progresses more easily in if we do a pack-out. Eliminating the need to move large furnishings repeatedly and to attempt to get other items out of the way increases the time it takes to manage the moisture soaked into building materials and fixtures. We can more thoroughly evaluate the damage done to the articles packed out and devise focused plans to clean and dry them appropriately when we can control the environment.
SERVPRO uses our Contents Claim Inventory Service (CCIS) to create and manage the inventory of articles we move out of a flood-damaged space. Detailed lists, digital pictures, and a barcoding application ensure all your property is accounted for and secured. We track assessments, restoration strategies, and results, perfect for insurance documentation purposes.
We consider and employ a broad range of cleaning and drying protocols to restore items you might otherwise discard. Our production technicians are skilled and our equipment and processes top-notch. SERVPRO has a restoration vision for each project, saving money, time, and memories as we bring badly damaged possessions back to preloss condition.
A pack-out allows the SERVPRO technicians at your home the freedom to concentrate on water removal and extraction. Without the added moisture load of soaked possessions in the flooded spaces our efforts to complete structural drying proceed more efficiently. Transfer of dyes and soiling from wet movable objects to floors and other building materials is reduced dramatically in a pack-out. When we return the restored articles to your cleaned and dried home, you and your family regain both comfort and peace of mind.
SERVPRO of Reading has the technicians, training, systems, and equipment to restore your home and possessions after flood damage. Waste no time and call us at (610) 779-8189 immediately after the flood waters intrude.
For a list of fun events this month click here.